Introducing new Backoffice reports for Zettle Pro
Zettle Pro for Hospitality is now running a brand new and improved version of our reports suite.
To begin with, we'll run this new version in 'beta mode'.
In beta mode, your current reports will still be up-to-date and visible as long as you remain on version 4.x of the app.
What's new?
We've revised the reports suite to provide you with an improved, targeted set of reports to help you get a clear overview of your business and make better decisions.
The reports suite in the new Pro for Hospitality Backoffice includes:
Overview
This is the new landing page for Backoffice 3. It provides an at-a-glance overview of the key metrics relating to the health of your business.
Reports
A new Reports landing page providing access to the new suite of reports, together with headline stats.
Sales report
Rather than having information spread across 8 reports in the current Backoffice, this comprehensive, flexible report provides critical data on how your customers pay you, what they're buying and, importantly, how much you're taking home.
What is the Overview and how does it work?
The Overview is your new Backoffice landing page, replacing and simplifying the current dashboard. It provides you with an at-a-glance overview of your business's headline figures.
By default, the Overview displays today's data but you can choose a different reporting period. You can also compare reporting periods, allowing you to assess changes in sales patterns over time. For example, you can compare today's data with yesterday's.
The graph at the top of the page provides an easy-to-interpret view of sales. By default, today's sales are shown, accurate to within the last hour of trading.



Beneath are a set of widgets that provide a set of key metrics. Total gross sales are displayed alongside the total number of orders for the period. Together, these give a snapshot of 'the bottom line'. Secondary data points provide further insight into customer behaviour, in terms of the size and value of the orders being taken so, for example, you can gauge whether your upselling strategy is paying off. A third widget—tender breakdown—provides the important 'cash/card split' summary. You can easily toggle between the comparison periods.
What are Reports and how do they work?
You can access the Reports landing page from the main menu.
The new version of reports replaces the current Backoffice reports menu with a set of widgets. The widgets provide both a navigational route to the detailed reports and a series of valuable data points that give a picture of the health of your business.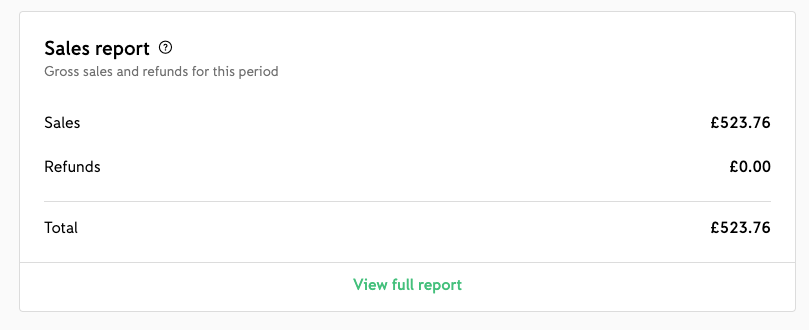 What is the Sales Report and how does it work?
You can use the Sales Report to track revenue and understand your profit and loss. It shows when your busiest periods are, what sells best, and where you're making the most profit. Use it to assess trends in payment types and product popularity so that you can adjust your marketing and menus accordingly.
The new Sales Report offers a wealth of data that was previously spread across a number of smaller reports in the existing Backoffice. It brings together the following data in one place:
Cash Card Split
Cash Card Split By Day
Sales by Category
Sales by Department
Sales by Hour
Sales by Terminal
Sales by User
Tax Breakdown
As before, you can choose the reporting period, allowing you to view data by the day, week, month, year, or choose a custom period. You can also compare it with a previous period.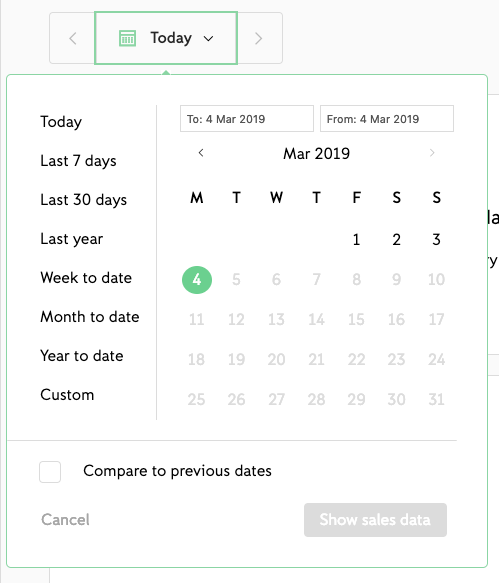 A graph shows your sales trends over the chosen period, allowing you to see your most lucrative periods and when trade declines.



Use the Sales Report's widgets to see, at-a-glance, how much your business has taken by payment type (your cash/card split). If you compare this with a previous period, you can determine whether your cash sales are decreasing or you're continuing an upward trend. Use this trend analysis to inform your planning and check whether your sales strategies are working or not.



The Sales Report also contains the detail behind the headline figures. A series of tables provide a detailed breakdown, with sorting and filtering features allowing further analysis.
Your headline sales figures are split by the different payment types you offer. Interrogate these figures to understand how that split is reflected across different terminals and different staff. Note that the report distinguishes between sales and refunds, so it's clear what the distribution of sales are across the business.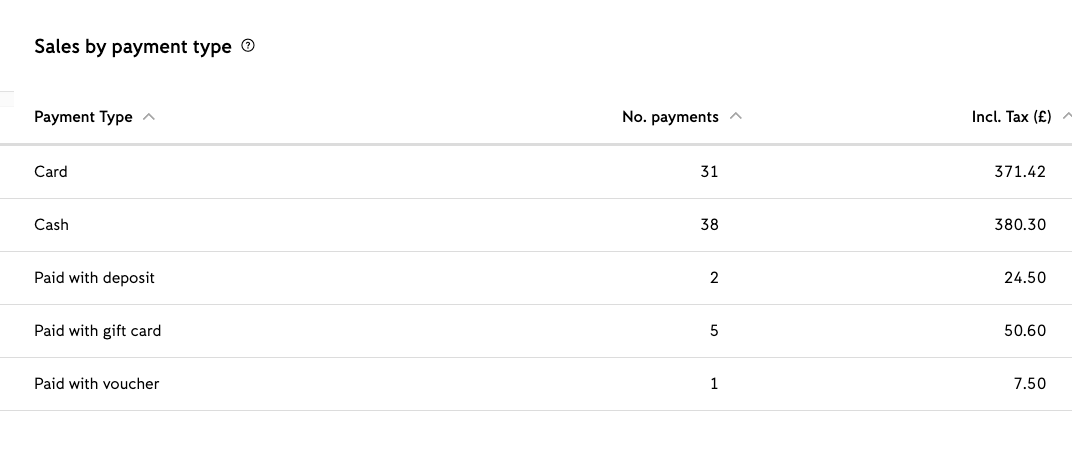 The 'Sales by tax rate' table (which replaces the 'Tax Breakdown' report) is similarly structured with the net and gross sales for each tax band clearly shown.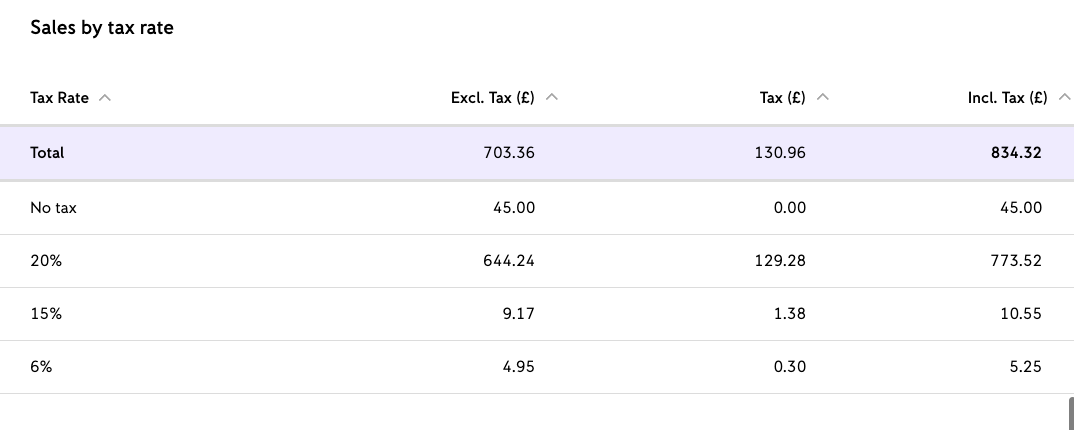 The final table combines the popular 'Sales by…' reports, breaking down the period's sales and refunds by product, category, department and user. Use this to get an at-a-glance view of your best-performing products, and to show which are less successful (cues for further analysis in the forthcoming Product and Staff Insights reports).
This data helps you identify your most profitable menu items and categories, supporting your drive for profit maximisation. You can also see which staff members are selling well and who could use more training and guidance.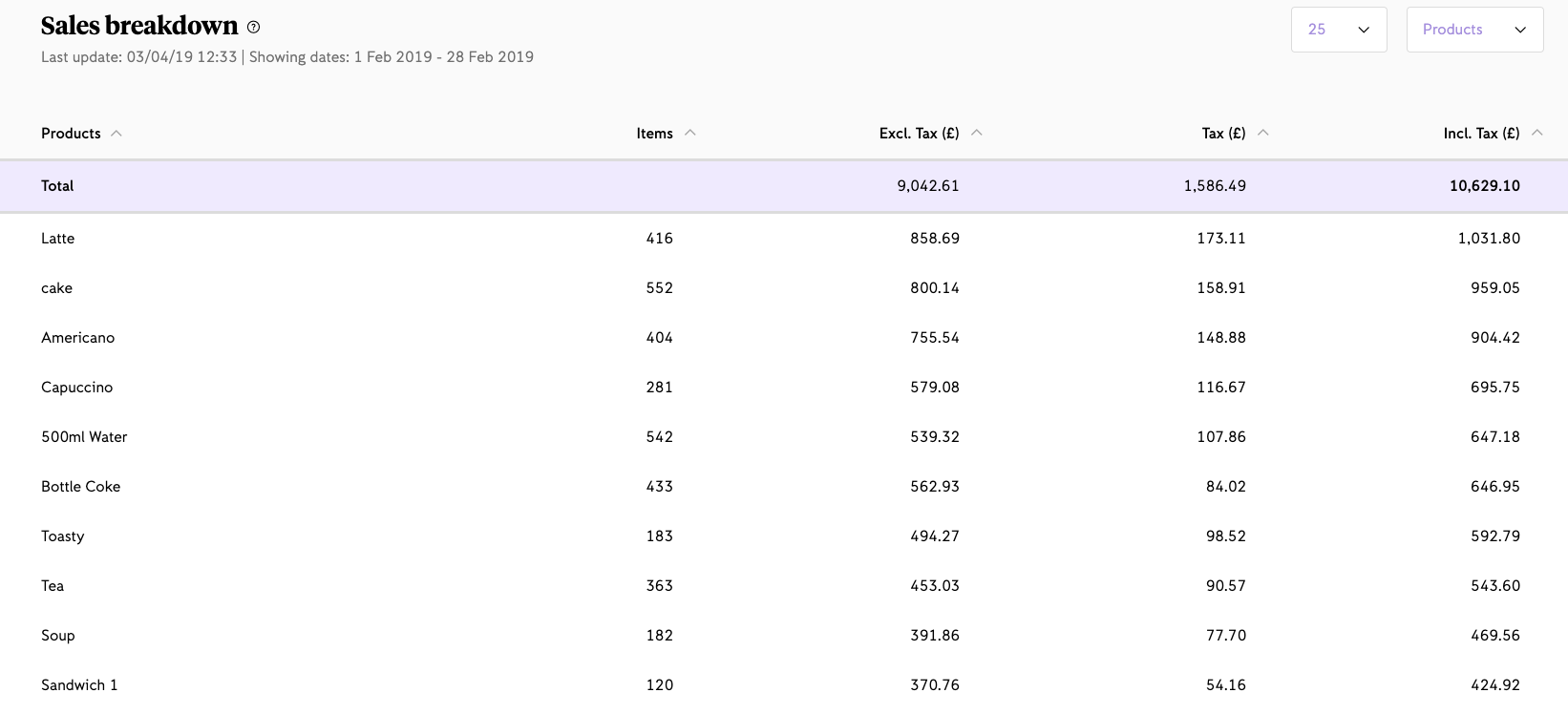 What's next?
There's plenty to look forward to, over the coming months, we will release the following reports in beta mode:
Trading log
Nightly email
Product insights
Staff insights
Promotions insights
Z reports
Extras and tips
Order insights
Was this article helpful?