Xero and Zettle Pro
You can no longer purchase Zettle Pro for Hospitality, instead you can read about our new service Zettle Food & Drink here.
What is Xero?
Xero is a bookkeeping tool that is integrated with Zettle Pro. It's easy to use, works online and is designed for small businesses. Xero is stored online, so you are free to work whenever you'd like from your PC, Mac or mobile. You can automatically import and categorise your bank statements, see your cashflow in real time and invite your team to collaborate on financials. Xero has everything you need to run your business, from paying bills to tax returns and more. You can find out more about Xero Accounting Software by visiting their website.
Using Xero
To use Xero, first, you need to integrate it with your Zettle Pro account. To do this:
Log into the backoffice web portal.
Select Integrations from the left-hand menu.
Select Configurationfrom the drop-down menu.
Click Enable Xero then click the Configuration tab once more.
Check that your provided email address is correct in the Update Business Days and Active Terminals section, which is where you'll receive notifications.
Click Continue. This takes you to the Xero tool, where you can log in.
Once you're logged in, you can alter your primary setup. Set the business days that you trade on, and choose the active terminals that you'd like to track on Xero. Finally, by altering your email recipients, you can set up multiple email addresses to receive Xero notifications. This means certain members of staff, for example, can help you with financials should you desire. These options are shown below: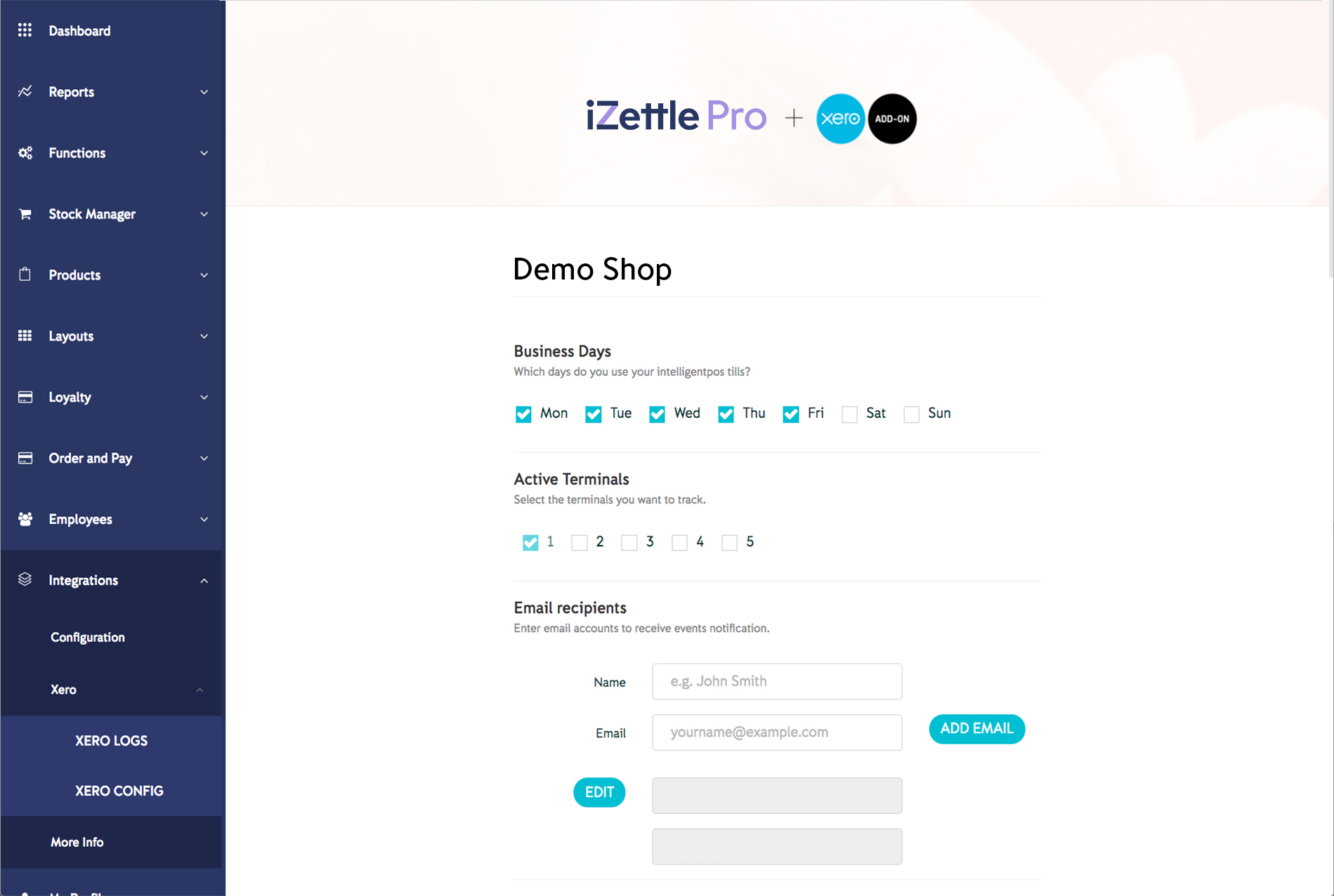 Once the basic options are set up, you'll need to learn how the invoicing tool works. This is how your Zettle hospitality invoice is submitted to Xero: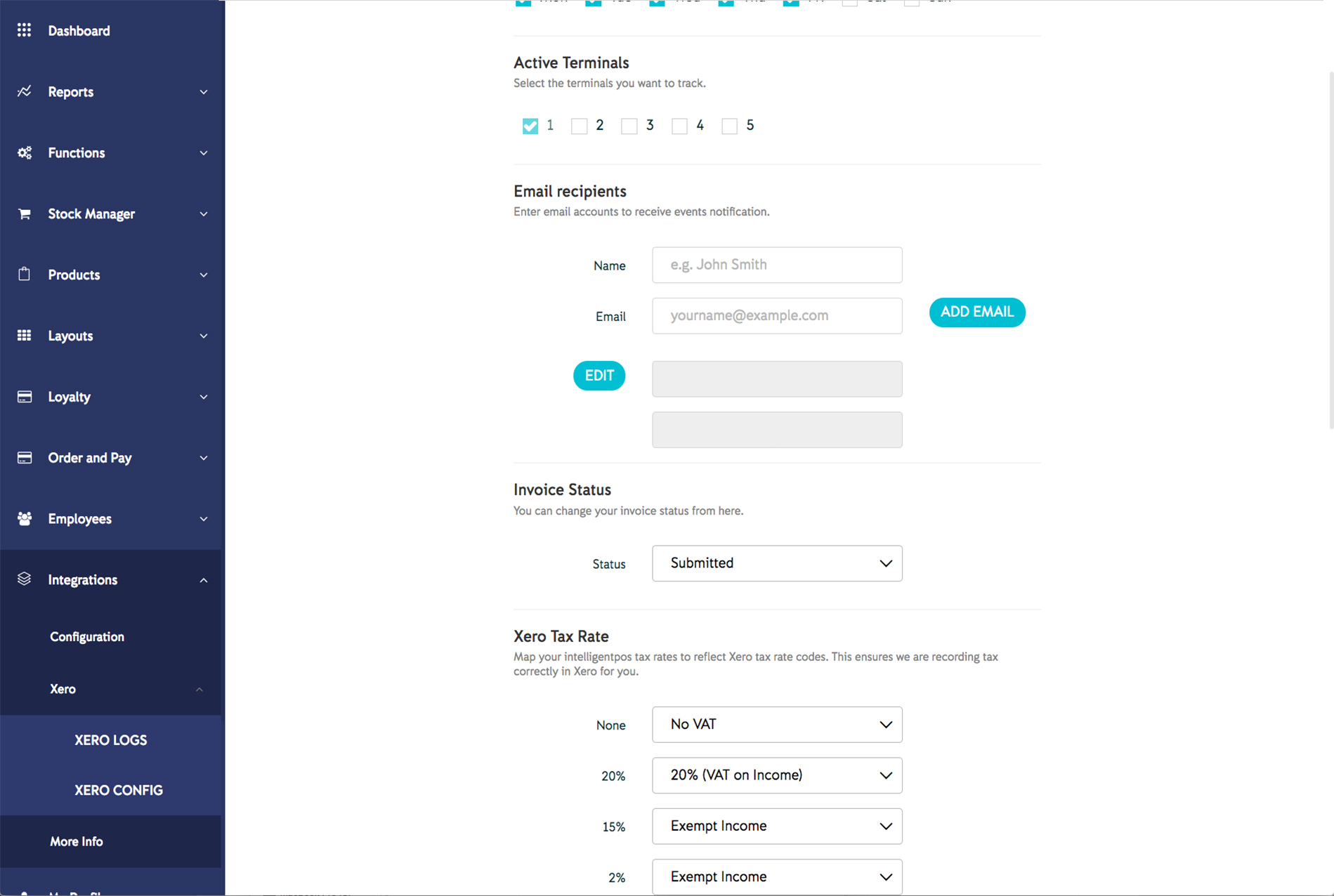 The invoice appears in your drafts and can also be found in the Accounts and Purchases section of the tool. You'll need to manually update the invoice at each stage in order to successfully approve it: first 'Submitted' and finally 'Authorised'.
You can also set default tax rates using the Zettle Pro system. The settings are shown on the following screen: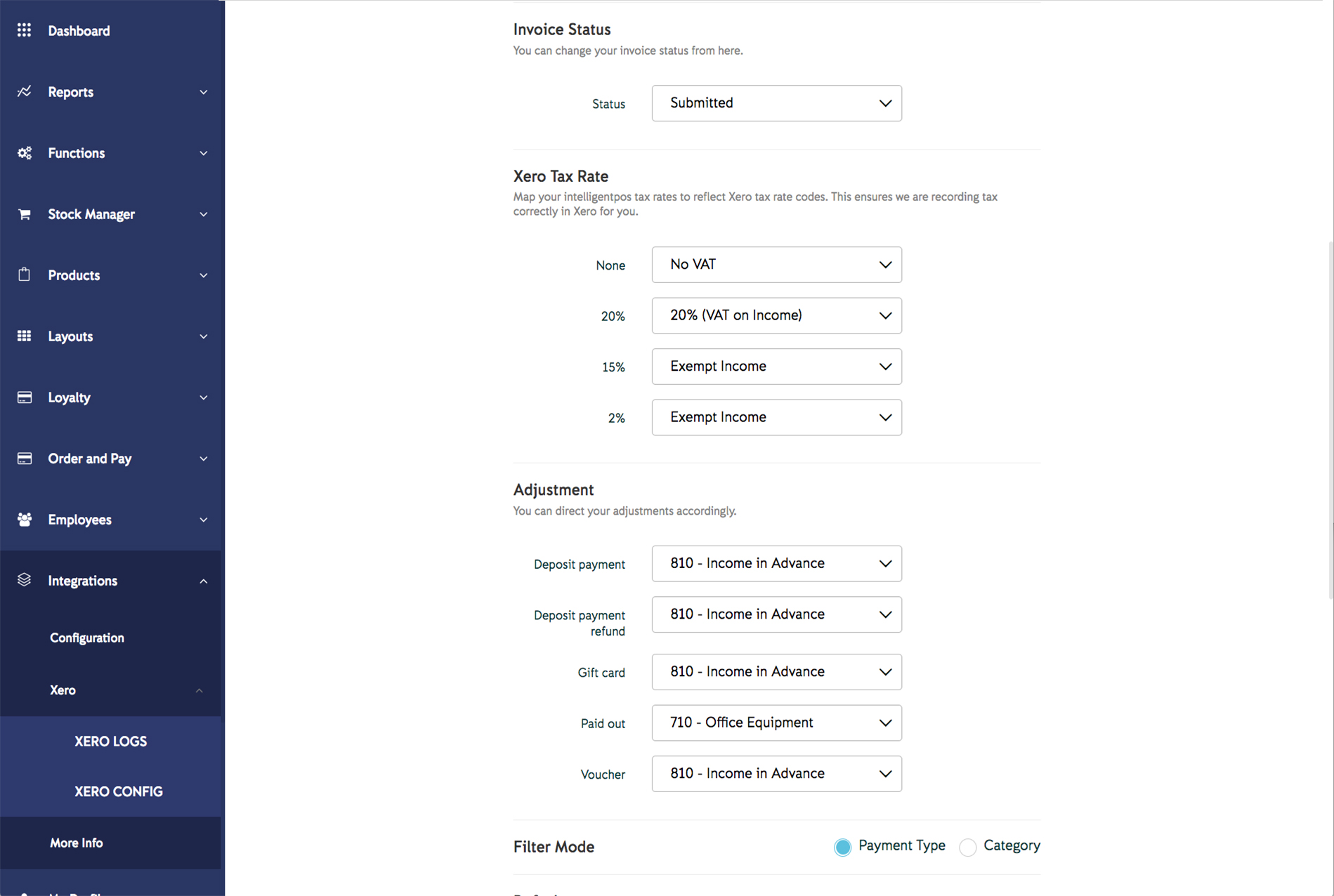 These tax codes are mapped to those available on Xero and match the tax rates on your products in the backoffice portal. To find out how to set tax rates for your products, please read this article for further information.
Xero has a Filter Mode which allows you to select settings for either Payment Type or Category. Payment Type allows you to see the different ways your customers have paid; for example, by cash, card or contactless payment. Category lists all your available categories on the Backoffice portal and the transactions related to them. This is a great way to get a quick overview of how segments of your business are doing and understand how your customers pay for your products.
If you need to adjust your payments to go to a specific account (for example, if you need to pay a staff member some of their income in advance or take a deduction for office equipment) use the Adjustmentmenu. First, to set up specific accounts you need to log into your Xero account and set them via presets. You can find out more about customising your Xero accounts on their homepage.
The set up for any payment that goes through accounts via tax rates is shown below. Each tax rate is set to a specific account. The left-hand panel shows the tax rates and the account that each rate is linked to: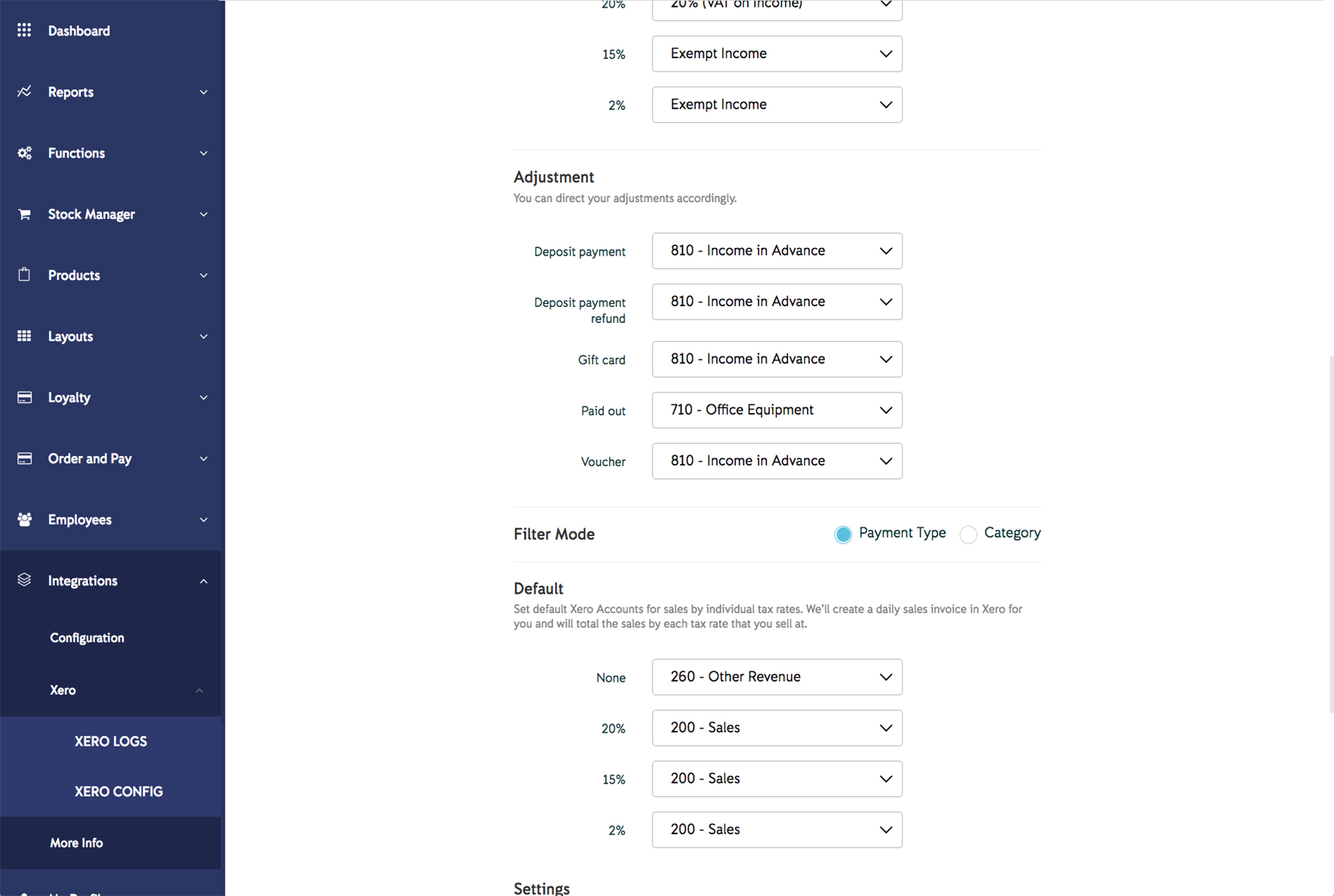 In this view, you can alter the settings for different payment types. Offignores the payments of this particular type. Defaultuses the preset settings and Customallows you to set up the accounts per payment type. After making a change, click Updateto save your new settings.
Was this article helpful?