Add product, category and department with Zettle Pro
You can no longer purchase Zettle Pro for Hospitality, instead you can read about our new service Zettle Food & Drink here.

To make sure your staff can find all your products with ease, it's helpful to categorise products in the Zettle Pro system. We provide three levels of hierarchy:
Departments
Categories
Products
Departments
'Departments' are at the highest level and are used purely to group 'categories' for reporting. They do not show as a button on the iPad but are helpful when you need to compare how your business is running as a whole. Example 'departments' may include titles such as 'Food' or 'Hot Drinks'.

Creating a department

To create a department:
Log into the Backoffice web portal.
Select Products from the left-hand menu.
Select Departments from the drop-down menu. The Create Department option appears: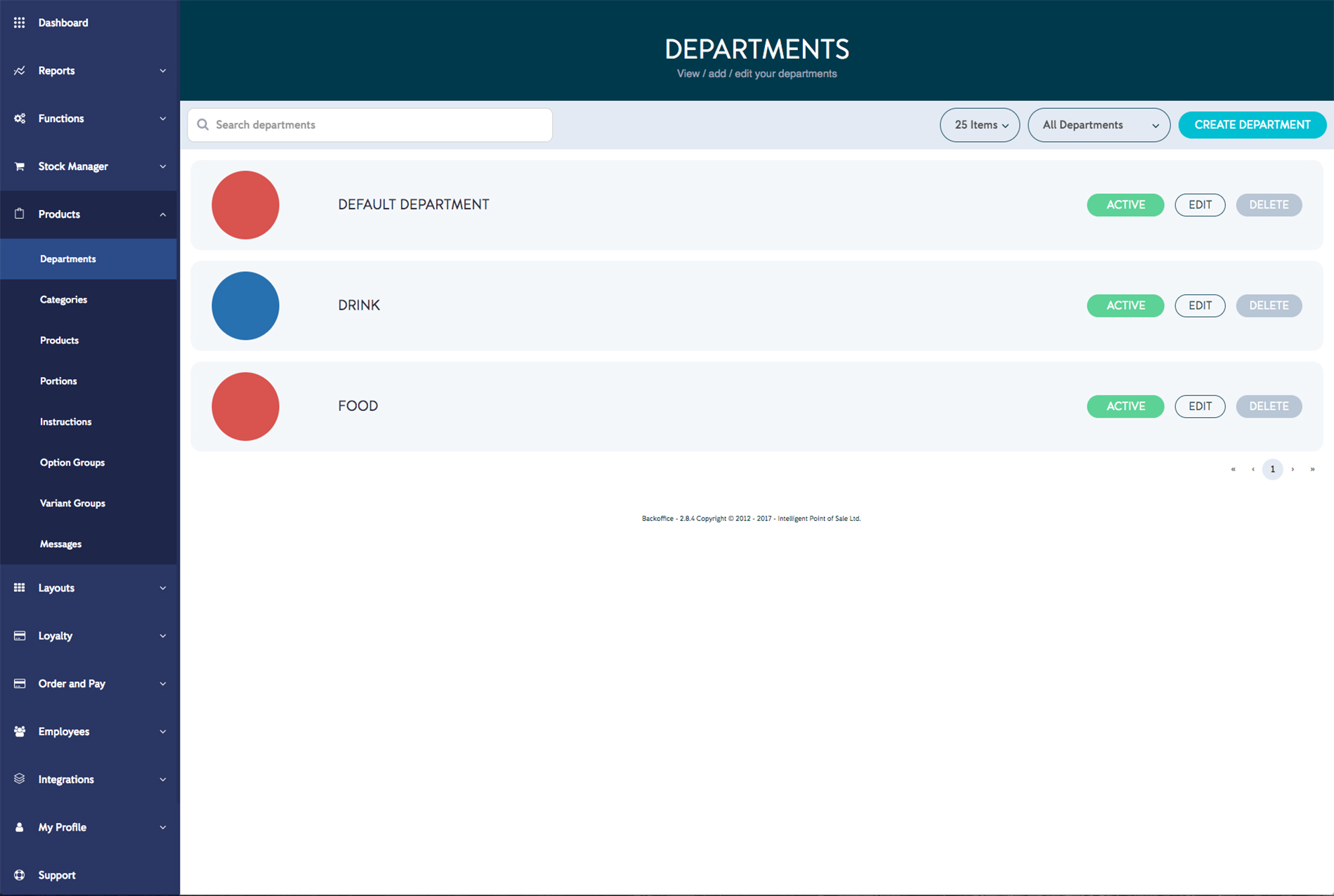 Click Create Department on the top right of the screen.
Type the name, select a colour and click Create to add it to your list.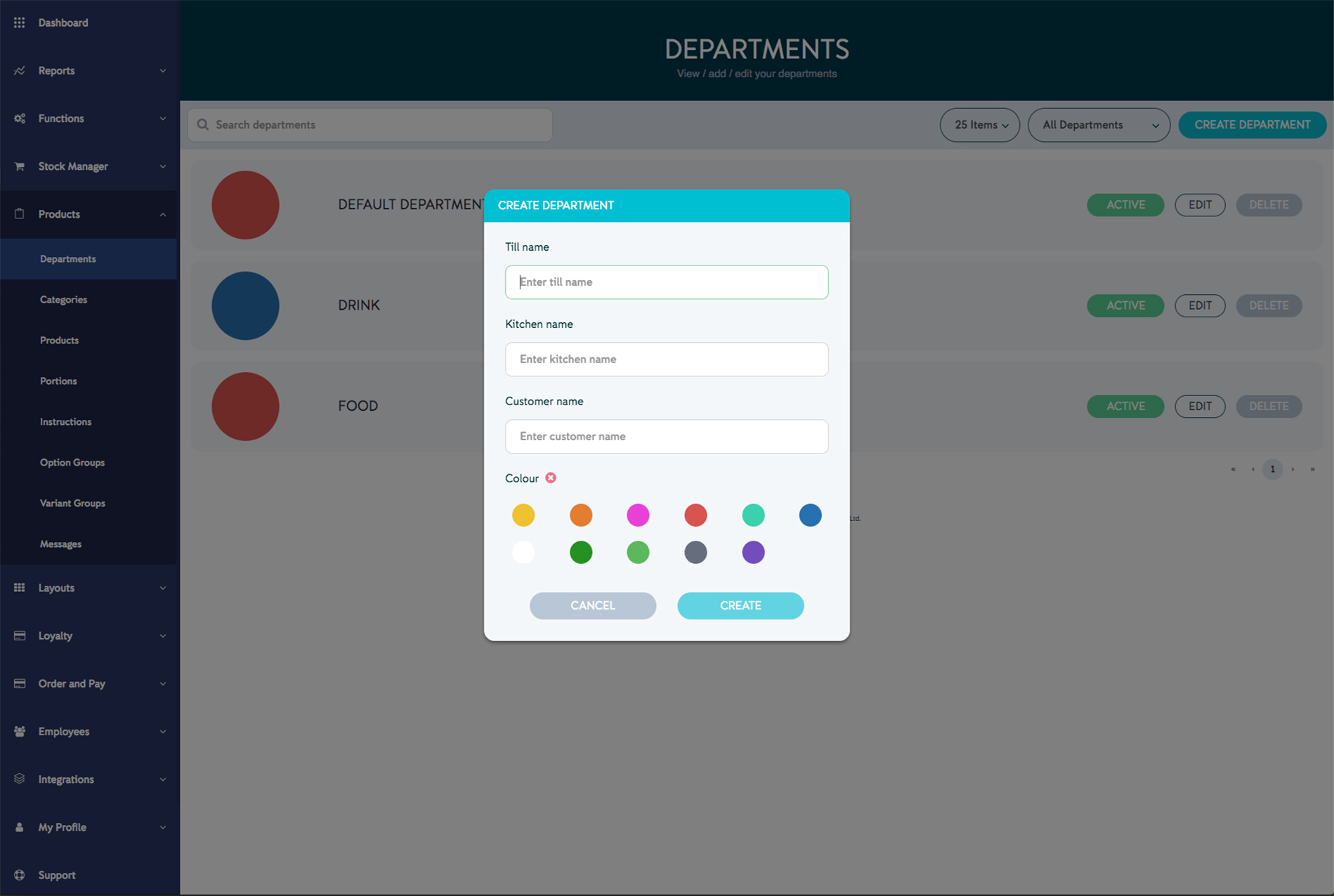 Note that you can edit or delete departments at any time.
Categories
You can add categories to products to group similar products together. This helps employees to find the items they need quickly. Example categories may include 'Starters' and 'Desserts'. Categories appear as buttons along the bottom of the till screen on the iPad.

Creating a category

To create a category:
Select Products from the left-hand menu.
Select Categories from the drop-down menu that appears.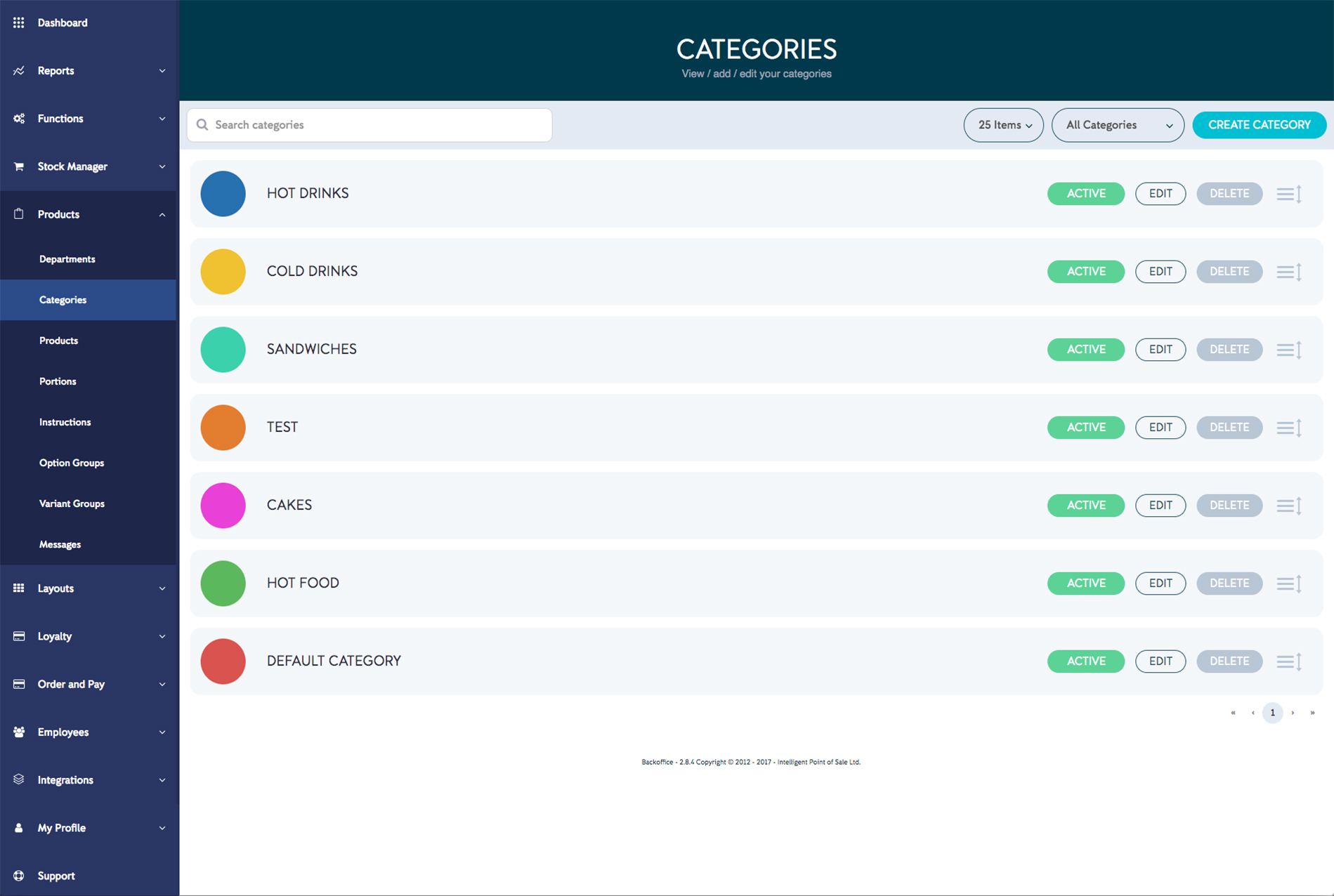 Click Create Category. The following screen appears: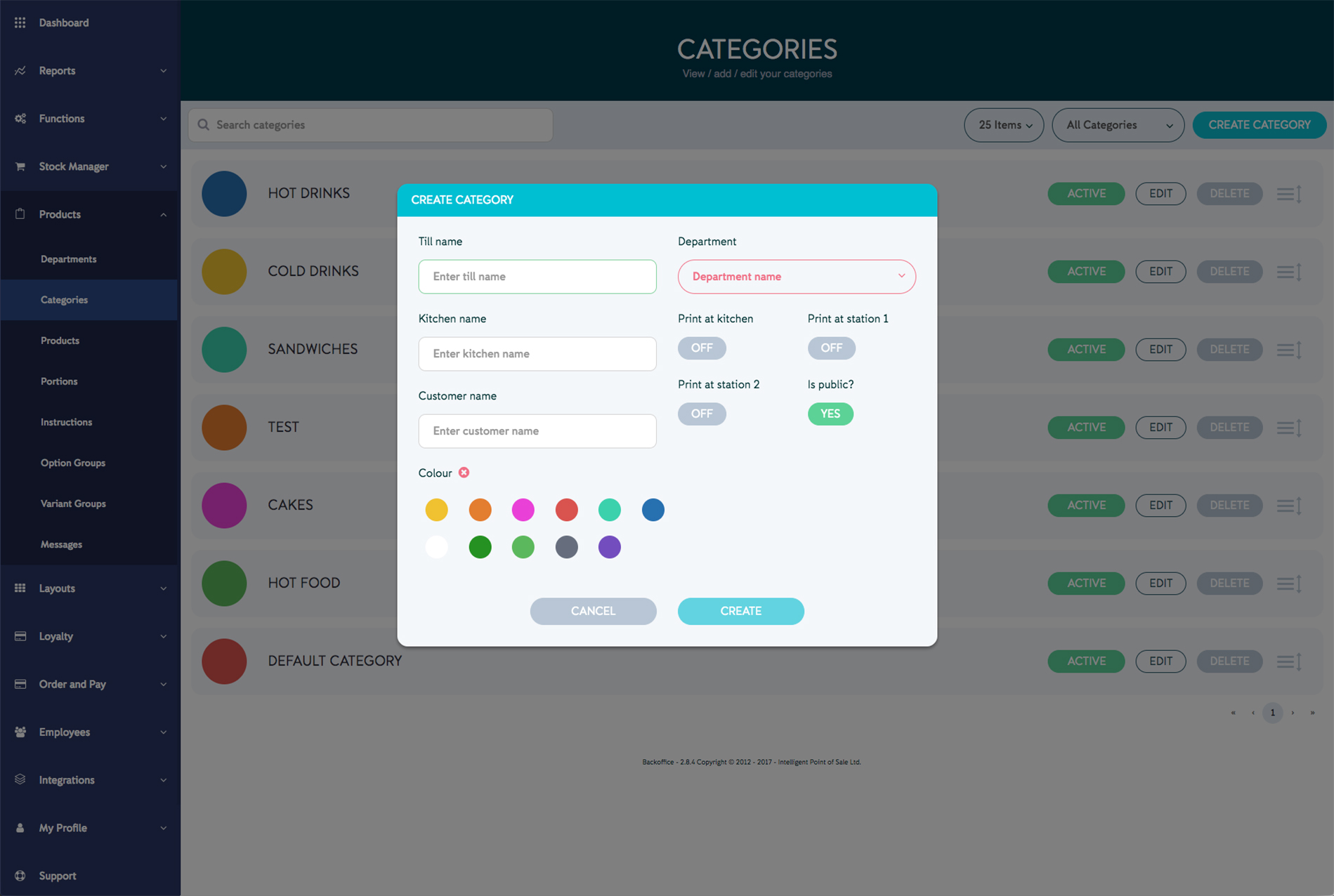 Specify the name of the category and choose a button colour.
Assign the category to a department. You can assign multiple categories to the same department.
Specify where station and kitchen receipts for products in this category will print. For example, you may want 'Main Courses' receipts to print in the 'Kitchen' so staff can act on these as they arrive.
Click Create. The list of categories appears.
Note: the order in which categories appear on this screen is also the order in which they print on receipts. To change the category order, click and drag the icon to the right of the individual category to move it up and down.
Products
Finally, add your products. Products are the individual items that you sell; for example, a small latte or a type of cake.

Adding a product

To add a product:
Select Products from the left-hand menu.
Select Products from the drop-down menu that appears.
Click Add product.
Specify the product name, the button colour of the product, and the category it is assigned to.
If the item has a barcode, enter this in the SKU field.
To enable or disable promotions for this item, change the setting on the Allow Promotions? option. This allows you to shift seasonal products or prevent items from becoming part of a larger price drop.
To disable the item for a length of time (for example, an iced drink in winter time) set Is Product Active? to No. To sell the item again, simply change this value to Yes.
Optionally, in the Price and Tax section, you can set:
a. Open pricing - select to allow the price to fluctuate
b. Volume pricing - select this for items sold by weight, rather than a fixed price
Set the Price and, optionally, the Cost Price.
Set the Tax Rate of the product, the Take Out Price and takeout Tax where appropriate.
To set a Loyalty Scheme option related to certain products, complete with point accumulation in the redemption section.
Click Save Product.
Instructions
For certain items, you can create instructions to modify a product; for example, a set of cooking instructions for a steak. Instructions are options without prices which are used within Option Groups. You can apply instructions to multiple products; for example, if you serve different types of steak at your establishment.

Creating instructions

To create instructions:
Select Products from the left-hand menu and Instructions from the drop-down menu.
Click Create Instruction. The following dialogue box appears: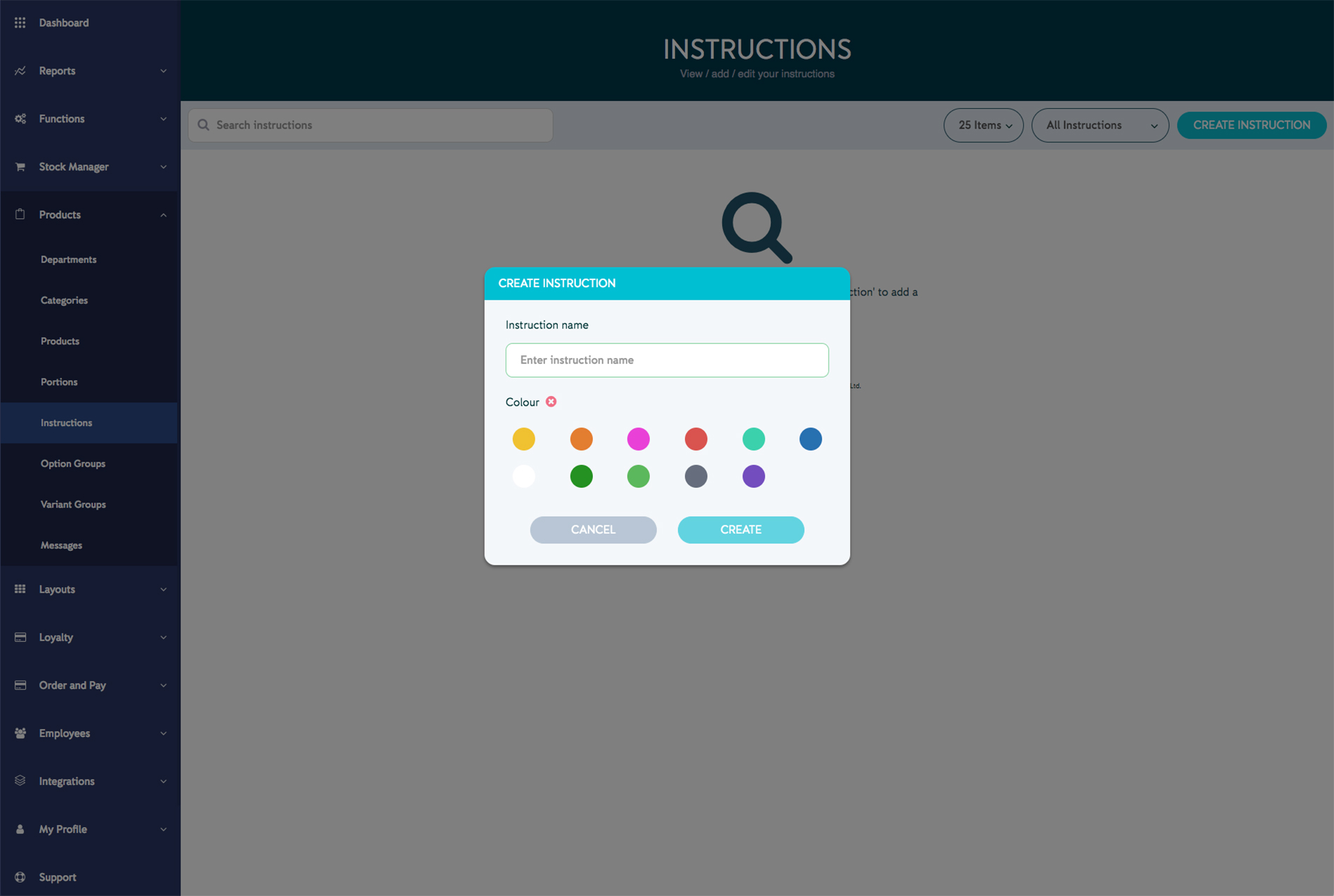 Add an instruction; for example, 'Well Done' or 'Rare', and choose a colour for it.
Click Create.
Navigate back to your products and link the product with the instructions you added. To do this:
a. Select the product to add the instruction to and click Edit.
b. Select the Options Group tab. You can create a new options group or use an existing one (see Use Option Groups for more information).
c. Click Add Instruction and search for the instruction you want to add.
d. Click Add.
e. Click Create Group or Update Group, depending on whether you created a new option group or used an existing one.
Option Groups
Next, it is time to group these options. Select the 'Options Group' tab and press 'Create New Group'. Give it a name - such as 'Steak Cooking Options'. Autocomplete will allow you to add all the associated items underneath. There is also a feature to add associated products alongside these options - like a steak sauce, for example. Press 'Add Products' and search for the relevant item and the amount you wish to charge.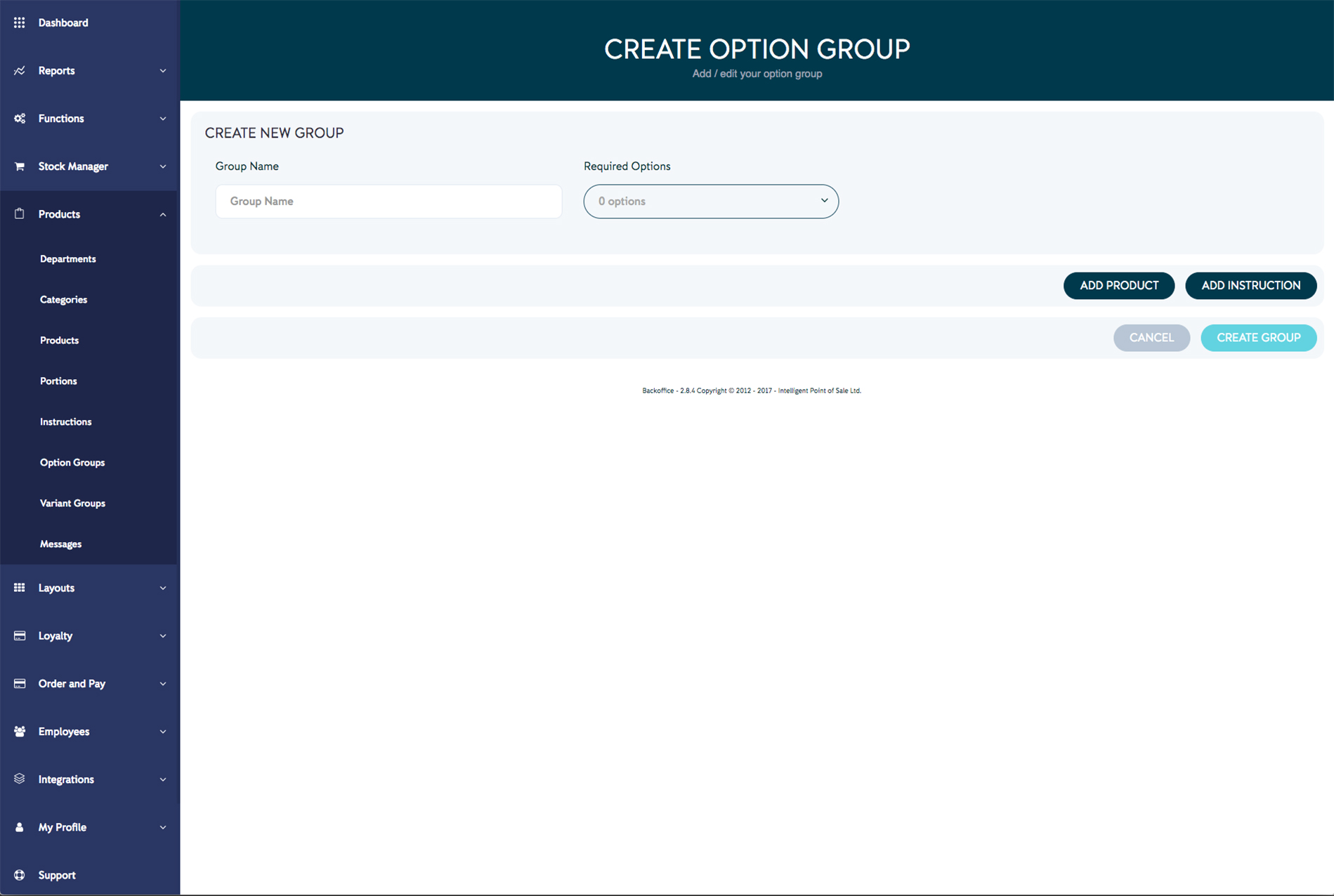 After creating the Option Group, select Use Existing Group to apply it easily to other products.

Note: for more information about using option groups, see Configuring Option Groups.
Portions
You can add portions to modify the size and price of a product. For example, a Cappuccino may come in small, regular or large sizes, with the price varying accordingly.
To add portions:
Log into the Backoffice portal, and select Products from the left-hand menu.
Select Portions from the drop-down menu.
Click Add Portion. Specify the Display Name, choose a colour, then select Create.
Repeat these steps to add as many portions as you need.
For more information, see:
Was this article helpful?