Tipping with Zettle Pro
You can no longer purchase Zettle Pro for Hospitality, instead you can read about our new service Zettle Food & Drink here.

Zettle's tipping function allows customers to add an extra amount to their bill, and they can do so straight into your card reader. This function works only with a Zettle Reader.

It is important that you understand how to receive and declare tips according to local tax authority regulations. Read more about gov.uk tax regulations in UK here. Tips that have been accepted with a Zettle Reader are presented in full on your Zettle sales reports and on your receipts.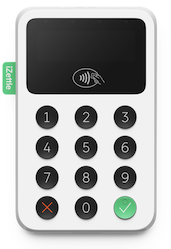 Activating the tipping function
Select Settings > Configuration
In the Paymentssection, set Enable Gratuity.
You will need to update the reader before the tipping feature can work properly.
Update Zettle Reader
Select Settings > Integrations
In Card payments, choose Zettle settings > Card reader.Click the green button.
Alternatively, if you do not update from Settings, the first time you take a payment the POS prompts you to update. Click Update.
Important:
Make sure that the card reader and your smartphone or tablet are charged before you update the software.
Keep the smartphone or tablet close to the card reader during the update.
If you click Skipyou will take an ordinary payment without tipping enabled.

How do I start receiving tips?
When the tipping function is turned on, a payment is done as outlined below:
Add products/items in the shopping cart, click Pay. In the payment view, click Pay with Zettle.
The card reader asks your customer if they want to add a tip. Hand over the reader to the customer.
If the customer says yes, they are prompted to enter an amount. After that, they simply enter their PIN.
The payment is done and a receipt is printed.
MAX level for a tip
To prevent accidental or invalid amounts (for example, if the customer enters their PIN code instead of a tip amount), the maximum tip level is set to 50%. If the customer enters more than 50%, the card reader displays a "too high amount" warning message.
Does Zettle take a cut of the tips?
For all card payments, Zettle takes a transaction fee based on the total amount. Read more about our prices here.
Was this article helpful?